Dave Skinner, who is the CEO of STI International, Inc. (Georgetown, Texas) and assuredly the most charming firearms manufacturer in the known world, is presenting a Special Edition of what appears to be an STI "Edge" ... finished in 24 carat gold plate!
He'll have this imagery, plus some music, available on this
corporate website
in the next day or two. In the meantime, he has generously provided the image to The Unofficial IPSC list.
I don't think it's going to steal his thunder to provide a convenient preview here.
STI Special Edition ... Left Side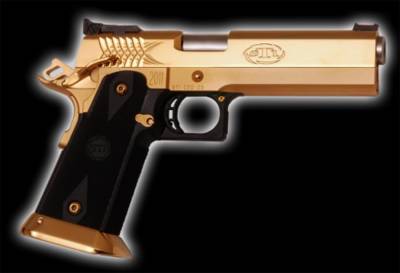 STI Special Edition ... Right Side
Beautiful, aren't they?
I want one of these. Now! I'll have to set up a PayPal account for donations. I figure it should take me ... oh, say about FIFTY YEARS ... to talk someone into contributing to my account. That is, after everyone else has already bought theirs.
Note the serial number on the Right Side
It says "
STI CEO 03
"
Clever Dave.